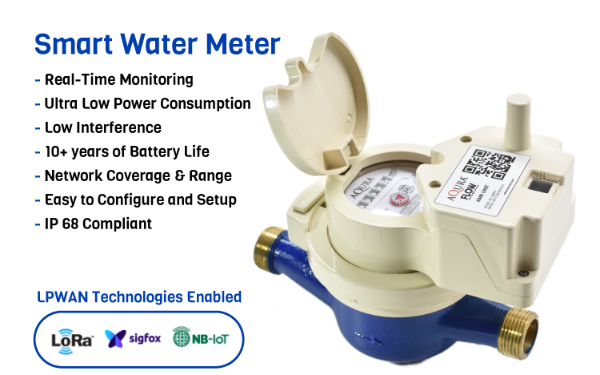 Flow, Smart Utility Metering Solution
Internet of Things
Smart Cities
Flow has been designed to allow wireless remote reading in different types of applications from the residential sector to the commercial and industrial sectors. Industries: Utility Providers (Water, Electricity and Gas). Ideal for domestic and commercial customers.
Website : https://www.flowsmart.io/
Current Status: Early revenues
Product Description
FLOW is a Single Solution for Multiple Utilities. Primarily we are focused on Smart Water Utility Management Solution.
FLOW is a combination of Automated Meter Reading and Advanced Metering Infrastructure. It includes an AMR enabled Smart Water Meter with the complete software stack for billing and analytics with an AI-powered alert system.
Flow Highlights:
We offer the latest LPWAN Based Communication Technologies - LoRa, SigFox, NB-IoT.

And our own proprietary gateway is for the apartment complexes with a concentrator.

One the concentrator will communicate with 500 water meters and can store data if any network failure happens.

Wireless Meters - No wires are coming out of water meter and thus rodents/birds won't damage meters.

Guaranteed 10+ Years Battery Life for Meter.

Guaranteed Warranty of 5 Years for AMR unit.

Meter will send data once in a day to the cloud server

SaaS-based software platform that allows customers to monitor and manage the billing of their consumers.

We offer cloud-based end to end solution including Software Stack and mobile applications for customers.

Web Interface for both Admin as well as for Customer.

Customer Mobile App (Android & IOS).

Our AI-powered the alert system provides systematic alerts to customers through various useful insights that help Identify Leakages, Theft, Heavy usage, Supply Interruptions, Meter issues.

Easy Installation of the Smart Meter and configuration using the mobile application.
[The physical installation of meters is just like any other normal meter, so it can be performed by any plumbers/technicians. Meter Configuration can also be performed by any of the technicians after watching our 30 minutes of the training video. If needed we can arrange local plumbers/technicians for the installation, extra charges applicable]
We have successfully completed our piloting with the Kerala Water Authority (KWA). Also associate with Bhutan Telecom to introduce the Flow at Bhutan, initially starting at Thimpu Corporation.