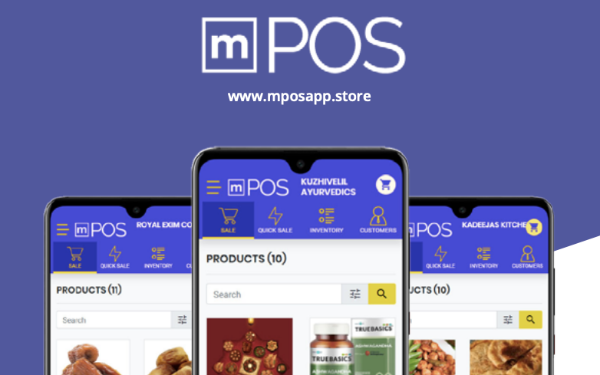 mPOS
Enterprise Applications
SaaS
mPOS is a cloud-based multilingual POS software designed to work in smartphones We provide a complete package for the management of customers, invoices, credit, etc. mPOS is simple to understand reports and analytics Our pricing is low and flat which will be affordable to small and medium enterprises. No hardware required to digitize the SME's. Since the solution will run in smartphone, they don't want to spend anything for computer hardware and we follow green protocol since the system will generate a unique , permenent invoice where the invoice URL is encrypted.
Website : http://mposapp.store/
Current Status: Early revenues
Product Description
mPOS - Turn your smartphone into POS device
As the smartphone and internet penetration going up, millions of small businesses are moving online. A recent study, by consulting firm Zinnov, estimates that over $80 billion of digital services may be consumed by this new class of small and medium businesses (SMBs) in the country over the next five years. According to the report, there are 75 million SMBs at present and this number is expected to grow to 105 million by 2025.
Digitized SMEs are capable of diversifying consumer segment in a short period compared to offline businesses by increasing revenue, providing access to higher customer base, increasing operational efficiency and enhancing customer experience.
Some of the challenges faced by SMEs in converting their business online are:
Investment required to digitize small and medium business in general

Investment on Hardware Devices such as Computers, Printers and UPS

Fear about the learning process

Concerns about data protection and Data security

Poor Internet connectivity or low internet speed in some areas
Our startup; Corehub Solutions created a mobile application called mPOS which is a user-friendly, cloud-based solution for businesses and their digitized processes. Being completely cloud-based, we do not require our own IT infrastructure for solutions. This saves computer hardware/server infrastructure and maintenance costs. The data is stored and managed by highly efficient cloud servers.
Furthermore, we have our tool mobile-based since the mobile solution can be used on-the-go via smartphones, tablets and web browsers. Another important aspect is that our app will be accessible by different employees at different locations.
Make Your Business Digital-Ready with mPOS APP
A web-based multilingual POS software designed to work in smartphones

A complete package for the management of customers, invoices, credit, etc.

Simple to understand reports and analytics

Low and flat pricing
mPOS APP Features
Smartphone to mobile POS
mPOS helps you to cut down expenses of hardware requirements by turning your smartphone into a POS terminal.
Maintain green protocol
Send invoices or receipts digitally and make your office/showroom carbon-free as mPOS works paperless.
Real Time stock updates
mPOS cloud gives you access from anywhere to know about stock updates. Generate QR/Barcode to maintain inventory.
Sales reports on demand
Be in control of everything with sales reports that give you important in- sights about how your business is going on.
Customer Management
Manage your customers and their credits to identify unpaid invoices, recover payments and maintain loyalty.
mPOS APP Modules
1. Stock Management
1.1 Batch Management.
1.2 Main Stock and branch wise stock
1.3. Stock movements: Main Stock to Branch, Branch to Branch & Branch to Main Stock
2. Point of Sale
2.1 Search products
2.2 E-commerce style POS
2.3. Discount ( Percentage/Amount) 2.4 Credit Management
2.5 E-Way Bill Entry
3. Quick Sale : To sell non inventory item and add to stock
4. CRM
4.1 Customer Data
4.2 Customer's Credit Data
4.3 Recent Customer Data
4.4 Customer's total Sales Data
5. Invoice
5.1 Invoice Data
5.2 Credit Invoice
5.3 Credit Repayment
5.4 Digital Invoice & share via WhatsApp/Email & encrypted unique link for every invoice 5.5 Export invoice.
6. Sale Report
6.1 Weekly Sales Report 6.2 Export Sales Report
7. Employee Management
7.1 Separate login for every employee 7.2 Add and remove employee data
And, we are working on more modules like Purchase Entry, product bulk upload and many usefull reports