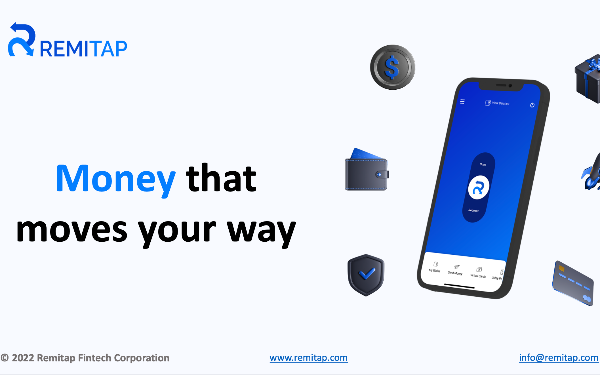 Remitap
This product can be white labelled to banks and other private players all over the globe or can be entered into the global market with strategic partnerships to provide consumers with a super payment app that meets all their payment needs within one app that includes domestic/international payments, utility payments, virtual cards, merchant payments, rewards and much more.
Website : https://www.remitap.com
Current Status: Early revenues
Product Description
Introducing a super payment app that allows users to remit money internationally/domestically, digital wallet, pay bills, gift virtual cards, credit cards/loans, rewards and much more using the most secure platform. One app for all user's payment needs can be white labelled in any country to serve the public or even private organizations. This app would give customers/users more financial freedom and control over their fingertips, built natively and custom for both iOS and Android devices. We offer multiple dashboards along with this platform, giving the authorities the to easily customize the app, access financial records, super admin, reconciliation and KYC dashboards for their perusal.
Strongly built with the most advanced technologies, with the help of AI and ML this app can reach a great extent by providing businesses with data for useful insights to organizations. Integrations with 3rd party service providers are just a hop away to build this app custom-made to suit your business requirements.


Currently, Remitap is Nepal market in association with MBL Bank and launching soon in the USA, Botswana, Canada, the U.K, Europe and other African countries by end of this year.