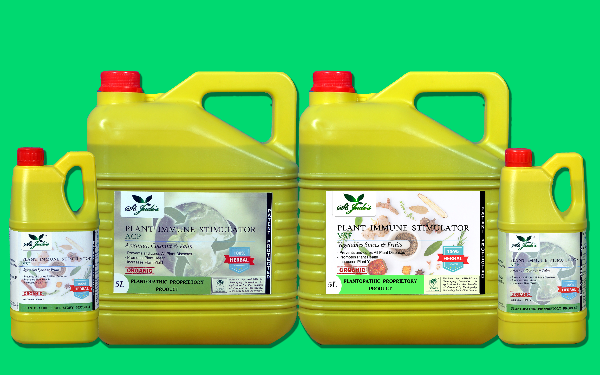 Plant Immune Stimulator
Plant Immune Stimulator is a vaccine-equivalent for plants which substitutes Fungicides in Agriculture while costing 50% less than current alternatives and increases the yield by 30 - 70%. It is more effective and long lasting owing to its unique mode of action and offer protection against broad spectrum of pathogen due to the untargeted nature of the triggered immunity. Further, The Product is toxicology proven and safe phytochemical formulation which is easier to apply (applied to base of plant) and easier to maintain. Overall, It serves as an inexpensive, highly efficient, safe and sustainable alternative for plant disease protection.
Website : https://stjudesindia.in
Current Status: Early revenues
Product Description
Plant Diseases causes around $220 Billion worth of crop loss every year and is considered as a threat to food security whereas the supposed solution for this problem - The fungicides have been causing problem of its own, affecting everything from soil to air and is basically a -cidal formulation. Moreover, the approach itself is wrong; Using fungicides, we are trying to create a barrier or wall around the plants so that the pathogen wouldn't reach the plant which is like wearing PPE kit which we know is temporary. So, we offer a solution that works better than current alternatives without any of its side effects, We offer Plant Immune Stimulator - Our Proprietary Phytochemical Formulation that works like the medicine we consume and makes plant capable of defending itself by activating Systemic Acquired Resistance - A Kind of Plant Immunity that confers untargeted, long lasting, robust defense - and increasing the activities of Antioxidant and Defense hormones in Plants. This way we make crops resistant to pathogens eliminating the need for artificial protection.
St. Jude's is a National Award winning Agritech Startup working to eliminate chemicals from farming. We are committed to making Agriculture Sustainable, Profitable and Easy having already impacted more than 3000 hectares of land, decreasing the farmers' expenses towards plant protection while increasing their yield; supported by host of institutions throughout India including World Economic Forum, UNDP, World Resource Institute, Punjab Agricultural University and Kerala Startup Mission.