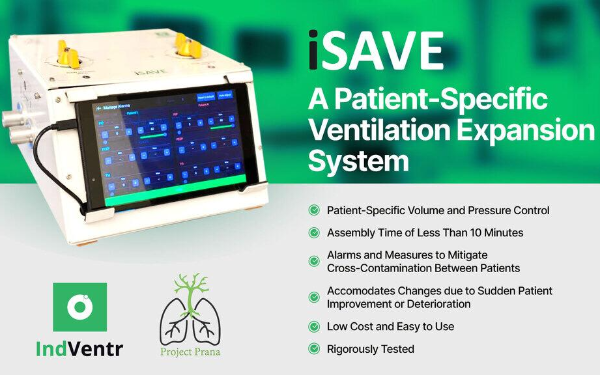 iSave
HealthTech
Healthcare Analytics
iSave is a device which allows a single ventilator to simultaneously support multiple patients. The system has been validated in animal models and multiple ICU ventilators. The iSAVE could potentially expand the ventilation capacity of hospitals using existing ventilators, minimizing the need to procure additional ventilators for emergency situations during and after COVID. We seek to take the iSAVE where it's needed most around the world.
Website : https://www.indventr.com
Current Status: Early revenues
Product Description
A Patient-Specific Ventilation Expansion System that repurposes existing medical flow valves to allow a single ventilator to provide personalized support to at least two patients. iSAVE enables independent control of volume and pressure for each patient and incorporates safety measures to accommodate sudden patient deterioration and cross-contamination.
We have applied for regulatory clearance of iSAVE in both the US and India while the product is being evaluated in multiple countries like Italy and Ecuador. In India we have emergency medical approval to manufacture and support hospitals in need. Our CDSCO number is: AIMED-Chenn-TN/M/MD001729.
We are currently fully focused on scaling our manufacturing capabilities and imminently increasing the ventilator capacity in Indian hospitals in the coming weeks - We currently have an initial order for 100 units in Chennai, Bangalore and Mumbai and have a pipeline of hospitals across the country interested in ordering the device for their centers.