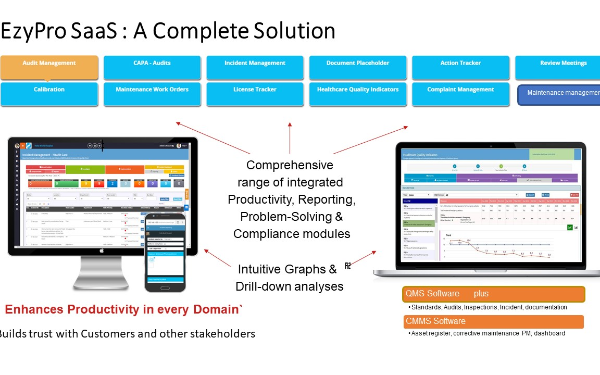 Product Description
At affordable prices, our customers, (organizations subscribing to this service) can use our SaaS service for executing internal audits, handling incidents and non-conformances, risk management, business continuity planning, document management, tracking quality indicators (we have a range of features) including Asset maintenance management. In summary, we are a combined a QMS and Asset Maintenance management supporting operational excellence in Healthcare and other sectors
EzyPro QHSE SaaS, compliance and maintenance management serves as a process automation solution to enable enterprises to implement international standards and adopt best practices across the organizations with ease.
Quality and asset maintenance management are key activities that differentiate organizations in an increasingly competitive global market. Apart from improving cost and operational efficiency it is also serves as a tool to facilitate process simplification, continuous improvement and enhance competitive advantage. EzyPro supports the digitization of these processes for a variety of Industries.
It meets the remote working needs in Post-Covid 19 business operations and helps optimize costs, increase efficiency with its quality KPI tracking, inspection/auditing and monitoring modules with data analytics.
Our SaaS platform offers a global growth opportunity for investors with annual recurring revenue of 2000 to 6000 USD per account (1.5 lakhs to 4.0 lakhs)
The global market size of this segment is over 8 billion with a CAGR greater than 12%. Our product has been under validation since 2018. The support we seek from investor partners is to strengthen efforts for growth, to build a sales and Marketing team for global reach.