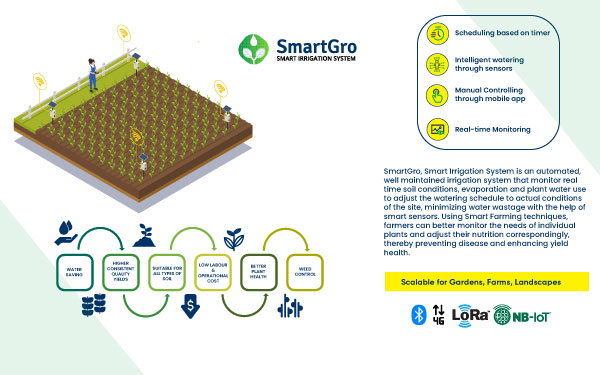 SmartGro, Smart Irrigation System
SmartGro is ideal for Precision farming, Terrace farming, Drip Irrigation systems.
Website : https://smartgro.in/
Current Status: Early revenues
Product Description
The Smart Irrigation System has a wide scope to automate the complete irrigation system. Here we are building an IoT based Irrigation System using smart Sensors and climate data. It will not only automatically irrigate the crops based on the moisture level in the soil but also send the Data to the gateway to keep track of the farmland condition. The System will consist of a water pump which will be used to sprinkle water on the land depending upon the land environmental condition such as Moisture, Temperature, and Humidity, etc. The software platform is powered by data analysis tools and reports for the effective monitoring of the farm fields. The data will help the farmers and scientists to evaluate the resource used in farming and adopt new methods for effective production.

SmartGro is available in three variants,
SmartGro BLE, which mainly for urban farmings like precision farming or terrace farming. Technology Used: Bluetooth for communication.

SmartGro LS is a the wireless solution, the large scale solution will be having a wireless battery-powered system to implement the solution in their farm so as to monitor their entire farm parameters in the software. Technology Used: Wifi/ LoRa and GSM for communication.
SmartGro Advanced- This is aimed at agricultural research and development agencies or Industrial agricultural organizations, they need more sophisticated software and a complex interface to integrate more sensors and implement more analysis, integrate multiple systems and establish relationships with data. We provide a customized solution for such customers by enhancing customized features to our Platform. Technology Used: Wifi/ LoRa and GSM for communication.