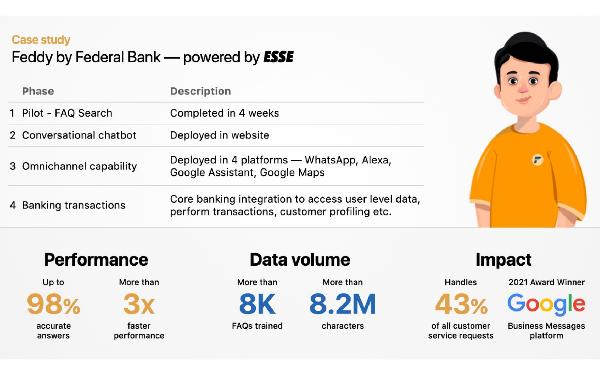 Esse AI
Artificial Intelligence
Artificial Intelligence
1. Esse AI Knowledge Bot: Esse's Conversational AI capabilities can be used to understand and answer customer queries in natural language. This assistant is omnichannel and multilingual. 2. Esse AI Transactions Bot: Esse can carry out complex core transactions in a safe and secure way, via normal human conversations. 3. Esse AI Smart Search: Esse's advanced NLP-based contextual search capabilities help employees find information across departments, through voice or textual queries.
Website : https://riafy.me/tech/
Current Status: Steady revenues
Product Description
Esse AI can be understood best as a unified intelligence layer that sits between your enterprise data and your customers. Enterprise data is processed, synthesised and trained to create Esse's unified intelligence layer.This common intelligence layer can be connected to every user channel. This ensures a consistent omnichannel experience on all platforms. When a user arrives with an intention, Esse AI understands the intention and solves it using human-like conversation. This can be done using voice or chat, in any language, and on any platform.