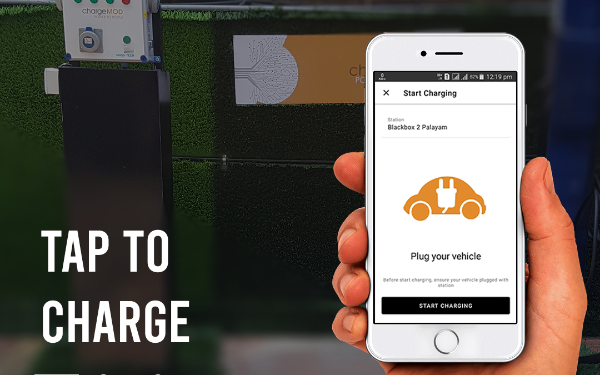 chargeMOD
EV charging application, EV chargers for home charging workplace charging.
Website : https://www.batterypowered.mobi
Current Status: Early revenues
Product Description
BPM mainly works on providing a structure for EV charging infrastructure rollout in the city insides and suburban regions throughout India. We are working on creating the largest smart charge grid setup in India, we also support and design the technology for installation of the system to ensure minimum resource utilization and ensures maximum value-added benefits for all parties.
chargeMOD App: chargeMOD is the open end of BPMs EV charging infrastructure to customers. chargeMOD app becomes the dominant channel for consumers to interact with charging stations. These services integrate public charging, energy, and new intuitive features for making EV charging an effortless part of our lives. Locate and plug into the most accurate and complete charging station anywhere on the go. EV owners can access chargeMOD EV charging stations using the chargeMOD mobile application; they can book stations, pay via phone, check charging status, etc. chargeMOD integrates the payment system in the form of subscriptions or top-ups through third-party vendors offline and online and also directly through the chargeMOD App. The client has zero involvement in setting up this technical backbone, which is the foundation of any feasible business. BPM Power will necessitate all payment and subscription technicalities. Payment modes are conveniently defined: Unified Payment Interface (UPI), multiple wallets, Debit /Credit Card, and Credits.
chargeMOD EV chargers: chargeMOD is currently developing and manufacturing Level1(BLACKBOX) and Level 2 AC fast charges which are currently the world's most affordable EV chargers in the market. chargeMOD offers these products at 1/4th the price comparing the competitor's pricing at the same quality.
The BLACKBOX; The BLACKBOX is the ideal electric vehicle (EV) charging solution for the home as well as public charging. With the BLACKBOX you get complete range confidence in a sleek, compact unit that charges four times faster than the level 1 cord that came with your EV. The BLACKBOX converts the regular 15A socket into smart networked EV charging point & is compatible with all electric vehicles. And this device is priced at INR8999.
chargeMOD Level 2 AC Charger: chargeMOD Level 2 EV charging is used for charging electric vehicles at home (single-family homes, condominiums, apartment buildings, etc.) or public locations (shopping centers, hotels, airports, parking garages, etc). Depending on the electric vehicle's charge rate and the state of its battery, the device can deliver up to 60 miles per hour of charging. The device is designed to withstand extreme weather conditions and is economic, robust, and durable. It comes with an output power ratings of 3.3kW, 7kW, 11 kW and 22kW. AC Level2 Type2 device priced from INR2999 onwards.
chargeMOD revenue generation programs;
The ABCC Program: ABCC (Any Body Can Charge) is a specific method that we at chargeMOD devised. We divide the customers' task of installing and maintaining the stations into fragments. Most of the fragments, we add it up to one place (a simple APP / RFID card interface). And the rest is to be fulfilled by the communities. All the interested entities/ Agency/ Group has to do is to install a system. The chargeMOD ABCC algorithm makes that people/partners who install charging stations a steady revenue. Thus, we can sprout multiple charging stations all through the city, without much expenditures from any party, thus boosting the EV ecosystem of India. We call this drizzle charge: You've got a charger where ever you go. Your daily hotel guy can now install a charging station and make money out of it. Your Barber can now install and earn too.
chargeMOD Workplace Charging: Access to charging facilities have now become an inevitability for many of the guests, visitors, and employees. This has become a new standard for every business. It's expected that an enormous number of EV Drivers will be charging at work. chargeMOD is working on creating workplace EV charging environment throughout all corporate institutions, government organizations, offices, educational institutions, etc.