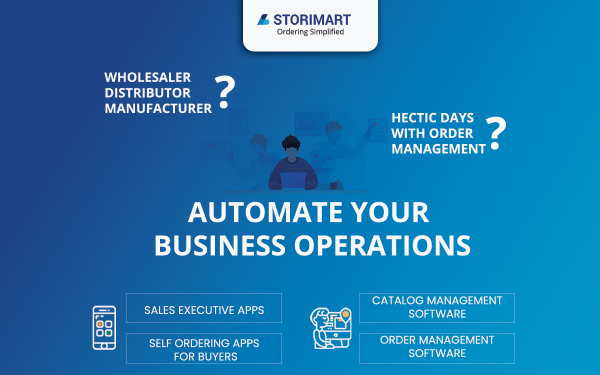 Storimart
Enterprise Applications
SaaS
In this technology era, The rate of technology adoption in the MSME segment is very negligible. The root cause is huge initial investment, maintenance cost and exponential growth of technology industry. Daily business operations are handled manually and lots of efforts are drained for routine activities and errors makes loss in revenue and goodwill. Because of this manual operations business need to invest more to expand to new geographies. Handling the unexpected scenarios like today, Business entity need more effort and also it will effect basic operations too. Today Storimart offers an affordable , dynamic, scalable business suite to the entire MSME industry in the country. This flexible solution automates the business operations by aligning to the exist operations procedure. This solution reduces the time required for each task, decline the errors in operation, bring up the time and resource to grab new business opportunities. Business units can simply board to storimart solution and start operations there.
Website : https://storimart.com
Current Status: Beta launched
Product Description
Storimart is a user-friendly SaaS solution that allows Manufacturers, Distributors, Wholesale sellers and Suppliers to easily set up their seller-buyer platform, accept orders online, communicate with their customers improve the operational efficiency and boost their sales.

Using Storimart, your operational costs can be cut all the while your revenue grows. By moving away from a traditional mode of business onto the digital platform, as a business owner, you can avoid the hassle of phone calls, purchase order, fax receipts, physical bargaining with vendors and much more. A Seller can raise the standard of their business by bringing together almost every feature of their organization online, including features like order management, price negotiation, warehouse information and even customer support. Unnecessary costs, either direct or indirect, can be cut down by adopting storimart ordering all the while focusing on growing your business. Storimart provides various reports on sales patterns, business volume, buyers ordering behavior, categories and product based sales report , Salesman performance report etc in a single click. These reports can assist sales & marketing team. Storimart integrates with most of the ERP solutions.
MAJOR FEATURES
For seller order management is made easy by enabling notification on new orders, easy invoice & delivery labels generation etc. and buyers will receive live updates on their orders.
Multiple catalogs can be managed easily and products can be mapped to any categories and sub categories. Dual level data security is enabled in every catalog activity. Products can be displayed in any order pattern to boost the sales.
Sales Executive Application
Ready to use mobile application for Sales executives to transact behalf of the buyers. Storimart solution provide feature to manage sales executives by tracking their performance and activities.
Seller can configure buyer-based values like catalog, prices, offers, categories, products, minimum order quantity (MOQ), Minimum order value (MOV), Shipping charge etc. Seller have full control over buyers like activation, deactivation, details updating etc.
Storimart can track the pending payments from buyers and will initiate notification to seller and buyer. and Partial payments are tracked with reference details. Partial payments will be consolidated for an error-free business.
Solution can perform various analysis on the different data and provides reports on sales patterns, business volume, buyers ordering behavior, categories and product-based sales report, Salesman performance report etc. in a single click.
Buyer Ordering Application
Designated buyers can place orders through mobile and web application on their convenience. Buyers can add payments and also track their orders.
Promotions and Advertisements
Storimart provides the functionality push product based and category based advertisements to all buyers very easily.
Security, Scalability and Reliability
Solution is hosted in cloud platform with advanced security features. Application will scale according to the traffic to the system without effecting the performance. System reliability is assured using advanced tools and technology.