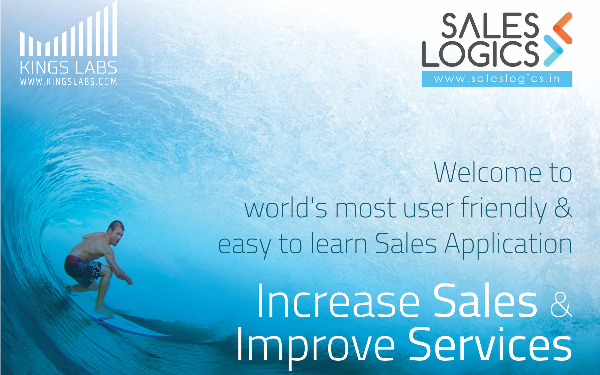 Sales Logics
Enterprise Applications
Sales Force Automation
Industry & some Clients 1. FINANCIAL INSTITUTIONS - DBFS(Doha Bank), MUTHOOT ETC 2. BUILDING MATERIALS - STORIES, GEOROOF, TERRACRAFT ETC 3. MEDIA/NEWS - MADHYAMAM, MEDIAONE 4. MEDICAL - SCIENTIFIC ENTERPRISES, YAANA IVF ETC 5. REAL ESTATE - ZEZTATE, CASADEL, TRIWOLD ETC 6. RETAIL - CAPITAL GROUP, MATHEWSONS ETC And Many More..
Website : http://www.saleslogics.in/
Current Status: Steady revenues
Product Description
FOCUS ON BEING PRODUCTIVE INSTEAD OF BUSY
Introducing simple, easy to use team friendly technology and process for your business that can transform the way you do business at affordable costs. We help you replicate success & grow exponentially. Following our set process will take you to your targets faster, help you in measuring success & achieve victory in shorter durations.
We empower businesses & increase sales, service & support revenue by providing technology, tools and process through which our clients can improve their marketing, increase customer engagement, demo's, bookings, collections and increase customer satisfaction + references.
Take a FREE DEMO & explore the change we can bring in to your teams growth.

What makes Sales Logics apt for your business ?
Efficient Daily Attendance & Task Management
User friendly User Interface (UI) - WEB & MOBILE
Unique features & Advance Technology
Increase Sales And Productivity
Value For Money
Improve Margins & Profits