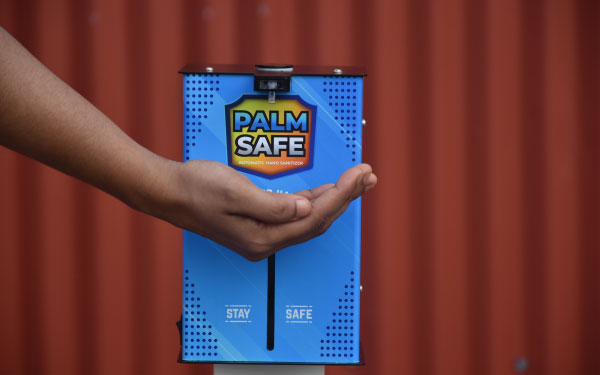 Palm Safe, Automatic Sanitizer Dispenser
HealthTech
Fitness & Wellness
Alcohol-based hand sanitizers are preferable and more effective to handwashing with soap and water since it is better tolerated and more effective at reducing bacteria. Handwashing with soap and water, however, should be carried out if contamination can be seen, or following the use of the toilet. Generally, it is considered that viruses are transmitted through face, eye, and nose when a person touches these parts with his/her infected hand. To address the transmission of Covid – 19 pandemic, we have designed an optimized touch-free sanitizer dispenser system, which releases less amount of sanitizer compared to market available systems. The unit can be scaled up to any size requirement. The unit was tested with known sanitizers and found a significant reduction in consumption of sanitizer. This unit may find applications in all types of offices, hospitals, testing labs, clinics, meeting rooms, etc.
Website : https://troncart.com/34-covid-19-prevention-care-supplies
Current Status: Early revenues
Product Description
Our product is a compact dispenser that works on electricity. The micro-controller placed at the core of the dispenser controls the working with the aid of a motor, pump, and infrared sensor. Upon sensing the hand movement, the pump springs into action to automatically dispense the sanitizer. The automatic sanitizer dispenser can be wall-mounted or placed on a table, thus doing away with the need to dispense them to each person, especially in places such as hospitals, offices, and shops. We have a ready-made dispenser having a capacity of 1 litre and another unit that can be used for any capacity of more than 5 liters.
Final level production is being completed for any capacity.