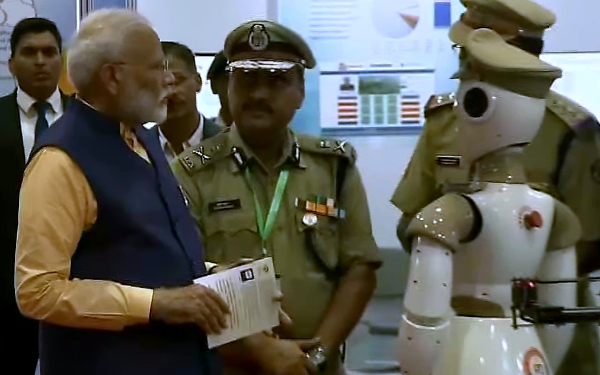 SAYBOT as Police robot (KP-Bot)
Technology
Security & Surveillance Technology
With recent developments in AI, we are seeing the advent of intelligent robots that can perform the tasks similar to that of human. Not to mention a rising demand globally for human-like robots that can perform tasks such as information assistance, physical assistance, surveillance and so forth. Homeland security & forensic sciences, law & order are some areas where robots are potentially being used worldwide.
Website : https://www.asimovrobotics.com/
Current Status: Early revenues
Product Description
KP-BOT is a unique Police robot that is developed by Asimov robotics based on unique concept proposed by Kerala Police on the top of the SAYABOT platform.
KP-BOT is designed to provide top quality service around the clock in terms of hospitality and front office administration by overcoming the human error and limitations.
However, this new positioning does not replace any human resources, rather, it can be used as the first contact point and a tool to collect the required data with which they can improve the overall serve quality and performance.
The major duties assigned to the KP-BOT is as follows.
1) To meet and greet officers and through face recognition.
2) To meet and greet and guide visitors to the appropriate sections within the office as required.
3) To provide detailed and accurate information to the visitors about the procedures related to all kind of services available from the office where it is deployed through verbal communication supported by information displayed on the screen.
4) Collect information of visitors to schedule appointments and to issue visitors ID.
5) To create case file against any complaint/petition detailed by the visitor.
6) Allow officers to get connected to the robot though tele-presence in case of any urgency.