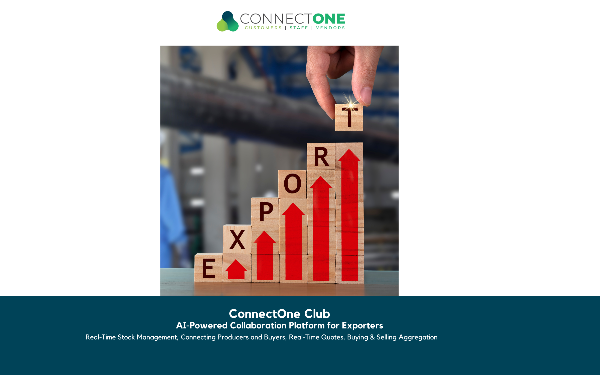 Collaboration Platform for Exporters
Exporters Module will help Exporters to - Exporters can compete in bigger markets through aggregation. Increase competition and prices by introducing new buyers. Time saved through automated quotes and self-service features. Limit waste and risk by listing projected supply in advance, and plant/harvest/manage based on demand. Reduce dependency on location or previous buyers. Access data and projections for better planning and support for your members.
Website : https://www.connectoneclub.com/
Current Status: Early revenues
Product Description
ConnectOne Club's digital marketplace features provide exporters with a range of tools to plan, combine and negotiate sales to maximise profits and your precious time. Sellers and vendors can list their current inventory and upcoming harvests/supply at a set price or in an online auction. Both methods create a digital inventory and allow members to coordinate according to real-time market pricing.

Buyers from anywhere in the world can be given their own login and view available products by location, quality and other filters or on a projected inventory calendar to find the best fit for their needs. Similar offerings from smaller businesses can be aggregated and presented as a bulk option to meet the demands of larger buyers, exposing your sellers and vendors to a diverse range of buyers.

Your team can view past sales, successful quotes from buyers, and product details that build mutually beneficial market intelligence.