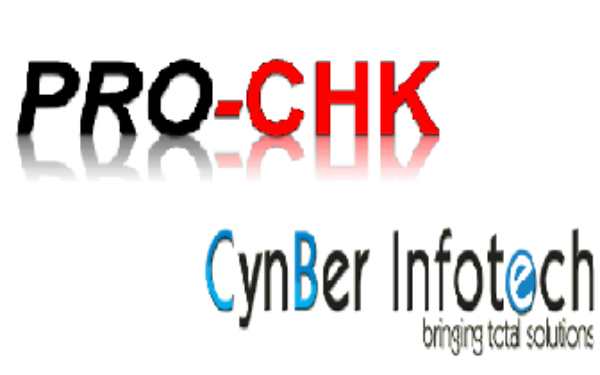 Pro-chk
Enterprise Applications
Product Management Tools
Document Management System - Document Repository with access rights. ROC compliance repository for MSME Product Tree : A Drill down or window explored model product and its subcomponent database Dynamic Register : eRegister product is linked to this product as Dynamic register which can replace traditional logbooks in all the organizations. customizable eRegister with data analytics. Inspection process flow: To understand the execution process flow of any manufacturing and assembling MSME units.
Website : http://www.cynber.com
Current Status: Beta launched
Product Description
As part of Industry 4.0 revolution and Make in India Initiative, CynBer Infotech has been engaged in software product development since June 2018 for the design and development of the product inspection software product in association with an Indian Defence Armament Inspectorate Trivandrum Unit as a pilot project. This product is a collection of tools for the product Inspection process and knowledge management of a Quality Inspection and Assurance department
Document Management System – This software has a very exhaustive document management system to upload, store, and retrieve reference documents related to a product or component or subcomponent. Documents can be drawing, checklist, instruction manuals or any reference document related to a component. DMS can be in a separate server with access control.
Product Tree : This software has very detailed and drill down product tree which can show the relationship between a product and its subcomponent. This will provide an overview of components and subcomponents in an assembly line. This is something like a product master
Dynamic Register : The software provides a very unique feature called Dynamic Register which will help the user to create own registers and use it as physical registers. Dynamic Register will help the user to capture different data for different purposes. Create customized columns (tables) and enter the data as per the requirements. Use Dynamic Digital Register instead of long cumbersome register books
Inspection process flow: This software provides a well-defined diagrammatic representation of any activity such as inspection of a component, manufacturing process, workflow etc. This module helps to follow all inspection processes in a predefined sequence and alert any deviations on quality parameters. Apart from this, it provides tracking of inspection processes like who did the inspection, which tools were used for inspection, which document was used as reference etc..
Predictive Analytics and KPI Trending: This module is under development. Research on different mathematical models is in progress. Based on inspection value and failure data, different analytics need to be developed.