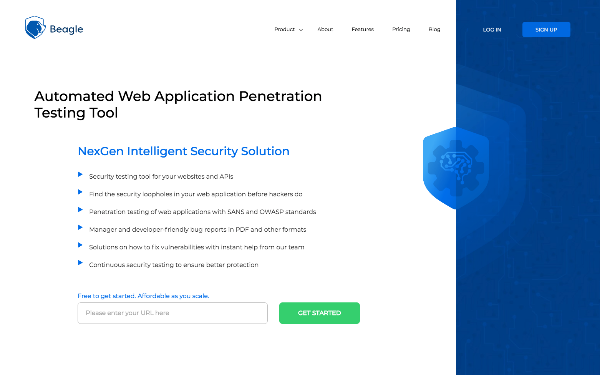 Beagle Security
Enterprise Infrastructure
Cybersecurity
Businesses operating in the Fintech, Healthcare and Education sectors handle a lot of sensitive customer data and it's vital that they are well secured. With Beagle Security, these businesses can constantly penetration test their websites to make sure there are no vulnerabilities in them. Businesses following DevOps practices can integrate Beagle Security into their CI/CD pipeline to trigger a security test each time they have pushed a new version into their staging environment. This helps in finding and fixing critical security vulnerabilities before an application is live. SaaS and E-commerce businesses handle a lot of sensitive information regarding a customer's personal and financial details. Therefore, it is important that there are no loopholes in their web application. Regular penetration testing with Beagle Security can help them to avoid even minor vulnerabilities that can act as a gateway for attackers to implement more targeted attacks.
Website : https://beaglesecurity.com
Current Status: Early revenues
Product Description
Beagle Security is a web application penetration testing tool that helps to identify vulnerabilities on a website before hackers exploit them.
By automating the whole vulnerability assessment and reporting process, businesses can spend time to fix issues faster and ship safer web applications. The test reports come with guidance for developers on how to fix issues. Beagle Security bridges the gap between development and security by enabling developers to code securely.
The DevSecOps CI plugins allow one to automate regular vulnerability assessment in the CI/CD pipeline to get real-time updates of an application's security right during the development phase.
Security tests can be scheduled on a weekly basis and the results can be integrated with apps like Slack, Jira, Trello, etc to receive the test results. This makes security testing effortless and convenient, meaning any non-tech person can handle it once set up!
Manual penetration testing is an expensive, skill-intensive and time-consuming procedure. Thus, many businesses neglect to keep track of their website security on a regular basis. This means that they are vulnerable to cyberattacks and may not know about a breach until later. A large portion of application testing can be automated and integrated into the DevOps pipeline. The advancement in machine learning allows us to bring more intelligence to this automation and thereby increase the accuracy of the test results.