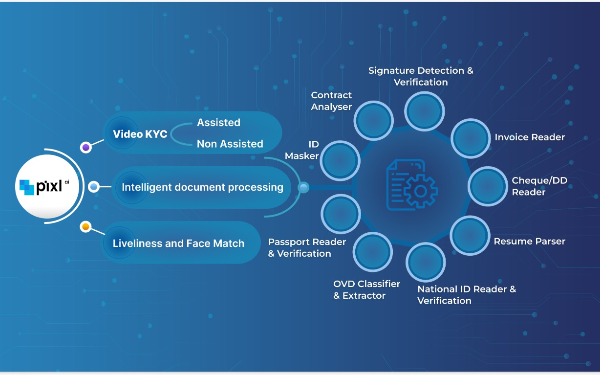 PIXL COGNITIVE SUITE
PIXL Cognitive Suite, is a set of technology applications designed on AI architecture focused on workflow automation. The PIXL suite of applications can address various use cases to completely eliminate the manual workflow. The manual processes like data entry from documents or OVD's, verification of customer KYC, data extraction from scanned documents, masking of data points in documents, signature verification and face verification, etc. can be completely made automated. Also the conventional paper based application forms and verifications can be transformed to a complete digital customer verification and onboarding.
Website : https://pixl.ai/
Current Status: Steady revenues
Product Description
"PIXL Cognitive Suite", is a set of technology applications which are designed on AI architecture. The PIXL suite can address various use cases to completely eliminate the manual workflow and enhance the business process with higher accuracy and efficiency. These intelligent tools is capable of executing various document processing requirements for our clients like Document Classification, Document Extraction & Reading, Document Data Masking, Document Comparing, Intelligently Processing the Documents and more. Brief on each of these PIXL applications are mentioned below:
1. Intelligent document processing: PIXL Suite consists of several powerful tools to make your organization smarter.
Invoice reader (Template less model): An intelligent application to process the invoice documents to extract meaningful information. This completely eliminates the need for manual invoice data entry.
Resume parser: A powerful tool to evaluate a bulk of resumes to find you the best candidates. With this application resumes can be processed and segregated and reviewed easily based on your criteria.
Cheque/DD reader: An application to read data from cheques/DD. With this application the cheque or DD processing can be automated which saves time and reduces the operational cost.
OVD Classifier and Extractor: Unorganized sets of OVDs are a nightmare to any organization. PIXL OVD Classifier and extractor is here for the rescue. Any unorganized set of OVDs can be classified and arranged into required structure. The relevant data from these sets can be extracted with high accuracy using the Extractor. This can also be used on the Tons of legacy documents lying around to get it processed in no time.
Passport reader and verification: An application to process the passports to extract the defined data points to verify the credentials. The manual verification can be completely eliminated.
National ID reader and verification: An application to read the required data points from any national ID copies to verify the same.
Signature detection and verification: An intelligent application to detect signatures from a document. The detected signature can be verified with a reference signature. It saves the time and cost spent on manual inspection and verification in documents.
Contract analyser: An intelligent tool to compare and analyze contractual documents for its contextual match, template based match or to check document to document data discrepancies.
ID masker: An application to mask the designed data points pertaining to customer privacy from ID documents. This is scalable to mask other specific data points and documents as well
2. Face match: A powerful face matching tool which can compare real-time users to a photograph and confirm the authentication. This application can be used for verification and managing and restricting the unauthorized person.
3. Liveness detection: An Intelligent tool to check the liveliness and authenticity of a person in front of a camera. With this application the fraud customer onboarding can be blocked.
4. Video KYC solution (assisted/non assisted): PIXL Video KYC is a complete digital customer onboarding suite designed with various applications in PIXL suite. It performs customer authentication, KYC verifications, Data and Document capture, Location Checks, Proxy Checks, Face Match, Signature Verifications, OCR, etc. in real-time and instantly. The workflow can be custom defined.
The Video KYC is possible in assisted mode, where an official can guide the customer the steps to be followed over an enhanced video platform. In non-assisted mode the system application itself will guide the customer.